About Course
On-Campus Robotics Course for Kids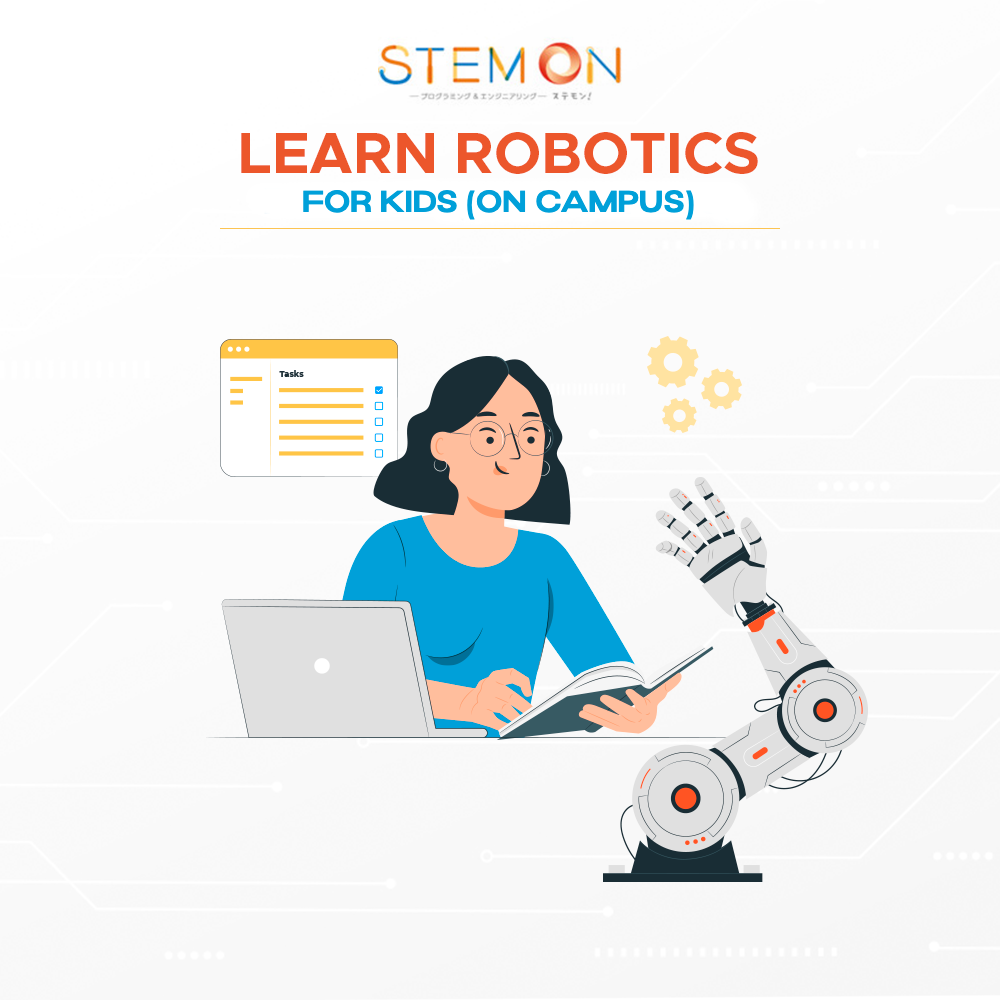 Certification from Stemon Japan
This course is available for students from class 3 to 8.
Details
On-Campus Robotics Course Details
Course Duration: 8 months in total
Total Level: 3 levels
At the end of each level, they have to create their project and give a presentation. Based on that they will be provided with a Certificate issued from STEMON JAPAN along with a Feedback sheet from teachers & also will be promoted to the next level.
Unique Features of us:
● Robotics kits imported directly from Japan
● Teachers trained up from Japan
● All necessary equipment is provided by us including laptops, robot kits, etc.
● Certificate issued from Japan
● Individual Care for each student as the student number per class is small
● End of the level PTA meeting to discuss kid's progress
● Daily Feedback Reporting to parents (paper-based)
What we offer to the students:
❖ Hands-on Robot making experience
❖ Programming those Robots on their own to operate using Studuino
❖ Small Games & Animation making through Blocks Programming using the Scratch tool
❖ Incorporating STEM knowledge in Robot making in a fun way
❖ Building up Math, Physics/Engineering knowledge through Coding
❖ Enhancing kid's logical thinking, brainstorming, and analytical skills
❖ Boosting self-confidence by improving their creativity & presentation skills.
Topics we will cover:
1st (Basic) Level Topics:
Duration: 3 months
Total Lecture: 12
What they will learn: (Tentative)
Introduction
Basic 2D, 3D figure construction
Robot building
LED Programming
DC Motor Programming
Car making
Traffic Light Making
Touch Sensor Programming
Worm robot making using motor
System architecture design, Assembling
Basic programming with Scratch
Web page design with HTML
2nd (Intermediate) Level Topics:
Duration: 3 months
Total Lecture: 12
What they will learn: (Tentative)
Advanced project using motor
Construction of mechanical robot
Photo reflector and motor programming
Random robot building
Dancing robot making
Creative assembling and programming
Original game-making using Scratch
Magic hand building
Line tracer robot making
3rd (Advanced) Level Topics:
Duration: 2 months
Total Lecture: 12
What they will learn: (Tentative)
Transport Robot Making
Line follower car making
Introduction to Microbit
Car race
Microbit - Sensor Processing
Balance Game
Parallel processing
Robot Arm Making
Scratch Advanced Programming
***Contents are subject to change/rearrangement based on necessity by the teachers or management from JAPAN.
Student Eligibility:
Class 3 to Class 8 kids (***Must need to have basic computer operating knowledge)
Campus Location:
o Gulshan Branch/Head Office
▪ (Address: Gulshan Lake Palace, House# 2E, 2nd floor, Road# 29, Gulshan-1,
Dhaka- 1212)
o Dhanmondi Branch
▪ (Address: KnowledgeVale, Daffodil Family Tower, R# 14, H# 11, Level-12A
& 13A, Dhanmondi RA, Dhaka-1207)
Student Capacity: 8-10 students per batch
Course Instructors: Bangladeshi CSE/EEE Graduate Engineers (Teachers) will take the classes who are trained from STEMON JAPAN.
Class Duration & Days: 2 hours per class & 1 day per week (Friday)
Admission Fee: 500tk BDT
Monthly Fee: 5000TK BDT per month
*** All payments are Non-refundable
Course Duration: 8 months in total which includes-
▪ 3 levels (Basic, Intermediate, Advanced)
▪ 3 months duration for Basic and Intermediate Level
▪ 12 classes per level
***After every 4 classes, you'll have to pay for the next month.
Admission Procedure:
Admission Form Link: https://forms.gle/5r2jaB4cnsbLZQAp7
***This is the initial form for admission, after the 1st class when you confirm your kid's continuation by paying the 1st month's fee, then you MUST have to fill up the "Course Registration Form (hard copy)" in your designated branch.
For more details information & also for Registration, please call 01886329396, 01850055320 (Sun-Thurs, 10 am-6 pm only)
Website: https://stemon.com.bd/
Facebook: Stemon Bangladesh
Instagram: Stemon BD
Youtube: Stemon Bangladesh